Meet Our Hearing Specialists
Our Mission
To continue our legacy practice by embracing what has defined us for the past 60 years: improving our patients' quality of life through better hearing.
We will serve the needs of our community, our country, and our world with a commitment to excellence and compassion in all that we do.
About Us
At Whittier Hearing Center we are dedicated to helping you find the right solutions for your hearing problems. Our staff of licensed professionals use the latest in diagnostic test equipment to insure that you get an accurate hearing test. They take the time to explain the results to you, in language you can understand. They answer all the questions you may have about hearing, hearing loss, and hearing aids.
You can trust your hearing to us. We are the clinical/rehabilitative audiologists for many local medical facilities including Presbyterian Health Physicians, AppleCare and Presbyterian Intercommunity Hospital. We also work with many local ENTs and all the neurotologists centers at UCI, UCLA, USC, and House Ear Clinic.
For many years they have trusted their patients to us for both diagnostic testing and for hearing aids. That is a trust that has been earned over the years by the quality of care we provide. Furthermore, our services are not only for people who have hearing problems. We offer custom made hearing protection for musicians and people who work in noisy environments. We also do custom-made in-the-ear monitors for musicians and custom fit earpieces for hands-free cellular phone operation. Our custom-made swim molds are a must-have for both children and adults who enjoy swimming and going to the beach.
We are the oldest (and largest) facility of our kind in the area. Whittier Hearing Center has been serving the needs of the community from the same location in Uptown Whittier for over 60 years. While the staff has changed over the years, our commitment to serving the needs of our patients has not. We're here to help people live the life they want with the hearing they have. See our services page for more information.
Here is our promise to you. A promise we have been making, and keeping, for over 60 years!
You will never find a hearing aid sales person at Whittier Hearing Center. What you will find are highly educated, well trained, caring, concerned professionals dedicated to helping you find the best solutions for your personal hearing problems.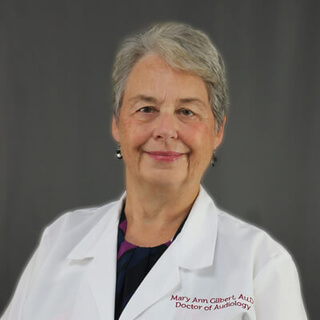 Mary Ann Gilbert, Au.D.
Doctor of Audiology
Dr. Gilbert has over 35 years experience as an audiologist. Her specialty is diagnostic audiology which is doing testing and working with physicians on determining the causes of hearing loss. She came to Whittier Hearing Center in 1983 after being on staff at the famous House Ear Clinic in Los Angeles. Many of the local medical groups and hospitals contract with Whittier Hearing Center because of her expertise. She is active in local service organizations and leads our support of the community in many ways.
"I am extremely proud of what we do at Whittier Hearing and of the staff that serves you. I feel honored to have lead this practice for the past 30 years and look forward to many more!"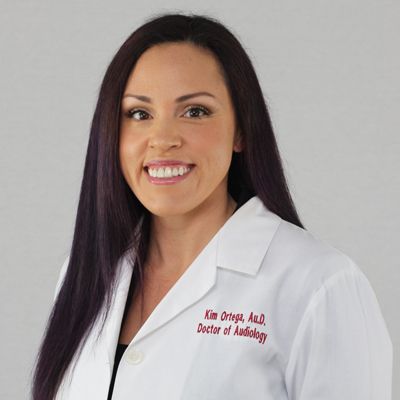 Kim Ortega, Au.D.
Doctor of Audiology
Dr. Ortega has been with us since 2006, and began moving toward ownership in 2012. She is an expert in the newer computerized hearing aids and especially in Bluetooth connectivity. While working as a teacher's aid with deaf children at Oralingua school, Dr. Ortega found her true calling: which is helping people with hearing loss live a better and more fulfilling life through hearing aids.
"This is my passion and my love. I cannot imagine doing anything else. It is the most fulfilling job anyone could have. I look forward to being at Whittier Hearing Center and serving our patients for the next 40 years!"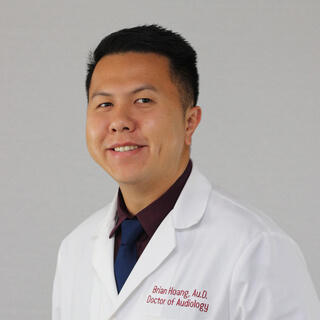 Brian Hoang, Au.D.
Doctor of Audiology
Dr. Hoang graduated from UC Irvine in 2011 with his Bachelor's Degree. He did not know exactly what he wanted to do next so he spent over a year volunteering in the community. That is where he found his passion in helping people live happier lives though better hearing. To achieve his goal he went back to school and earned his Doctor of Audiology from AT Stills in 2016 and joined Whittier Hearing Center in 2017.
"My passion is helping people. Now I get to do it every day with every patient! I love it."
(He is fluent in Vietnamese)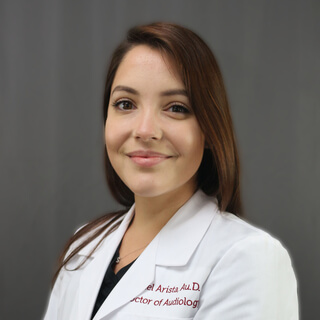 Ariel Arista, Au.D.
Doctor of Audiology
Dr. Arista completed her Bachelor's degree at Biola University in 2016 and then went on to receive her Doctorate in Audiology at A.T. Still University in 2020. She is excited to have found a career that allows her to help people of all ages and walks of life on their journey to better hearing! She is our Bimodal specialist so if you have a Cochlear Implant or are thinking about getting one, be sure to speak with her first.
"I love to see how people's lives change as they begin to hear better. It's exciting to see their quality of life and relationships improve as communication get easier!"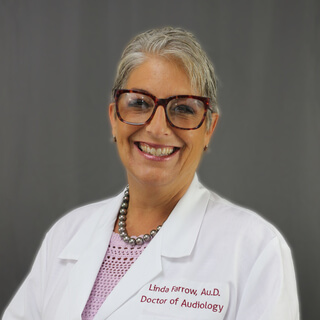 Linda Farrow, Au.D.
Doctor of Audiology
Linda Farrow, Au.D. has been practicing Audiology in Southern California for over 25 years. She completed her Doctorate of Audiology from Central Michigan University in 2002. Dr. Farrow comes to Whittier Hearing Center with experience in analyzing complex hearing issues and fitting the latest hearing aid technology.
In the past she worked at the House Ear Clinic, at a busy ENT office, and at Tustin Hearing. She views her job as not just testing hearing, but educating her patients about hearing, hearing loss, and treatment options. She has experience with complex diagnostic issues as well as being versed in hearing aid prescription and fitting.
"I love being able to help my patients down the path to better hearing. The connection I make with my patients becomes a bond of trust and friendship and I truly see what the gift of hearing is all about."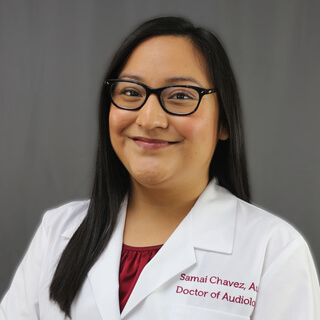 Samaí Chavez, Au.D.
Doctor of Audiology
Dr. Chavez was born and raised in East Los Angeles, She was drawn to audiology because of her own life experiences with her hard of hearing grandfather. She did her undergraduate work at Cal State Los Angeles, and her doctoral work at A.T. Stills in Arizona. She earned her Doctor of Audiology in 2016. While attending college she did several Hearing Missions to Mexico and Guatemala where she tested hearing and fit hearing aids on local residents. These missions really convinced her that audiology is the right place for her.
Dr. Chavez is fluent in both English and Spanish. She is highly qualified as a clinical audiologist for those times you need a diagnostic hearing test. She is equally qualified to prescribe and fit hearing aids. She says that she makes a personal connection with each patient and considers them to all be her friends.
"I was not able to help my Grandfather to hear better. I never want any person or family to go through the reduced quality of life that comes with hearing loss. Instead I want to help everyone I can to hear the best they can."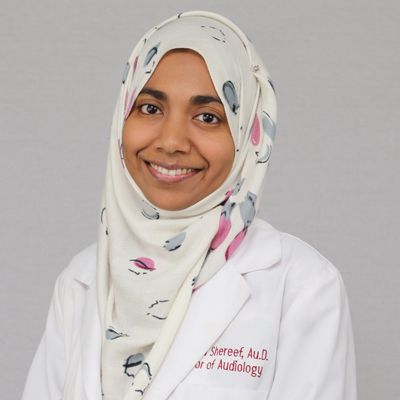 Suhana Shereef, Au.D.
Doctor of Audiology
Dr. Shereef completed her Bachelor's degree at the University of Florida in 2001 and then went on to receive her Doctorate in Audiology at Towson University in 2005. She has worked with all ages and provided a wide range of audiology services during her six years in the field. After taking some time off for her family, she is looking forward to returning to her role as a hearing healthcare provider. She and her family enjoy exploring beautiful new places and cuisines. She also loves to spend her time engaged in creative projects and making handmade gifts for family and friends.
"I feel very fortunate to have found a field that fulfilled my desire to help others, be of service, and make a meaningful contribution to the community."
(On Sabbatical)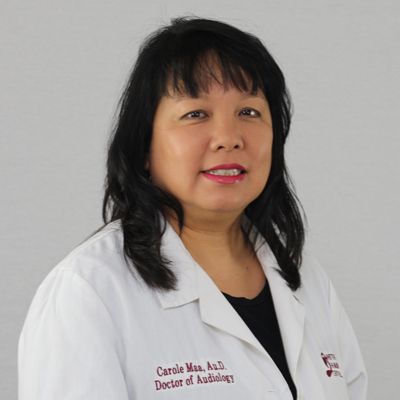 Carole Maa, Au.D.
Doctor of Audiology
Dr. Maa joined Whittier Hearing Center in 1991 while she was a graduate student at Long Beach State University. She has grown and learned a lot over the years and is now an expert in many different areas of audiology and hearing aids. Her specialty is the very small invisible or nearly invisible hearing aids. If you do not want the aid to show then be sure to see Carole as she can work magic!
"I love helping the patient who has gone elsewhere and failed with hearing aids. It is a joy to watch their face light up when they get the correct hearing aids fit to their special hearing needs."
(On Sabbatical)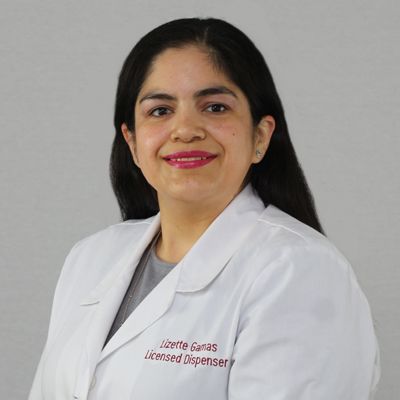 Lizette Gamas
Licensed Hearing Aid Dispenser
Lizette has worn hearing aids since she was five years old. In growing up with hearing loss she had both good and bad experiences with the people who fit her hearing aids. She decided to become a Licensed Hearing Aid Dispenser to ensure that her patients would only have good experiences!
"I want everyone to smile when they get their hearing aids and know that better hearing is better living."
(Fluent in Spanish.)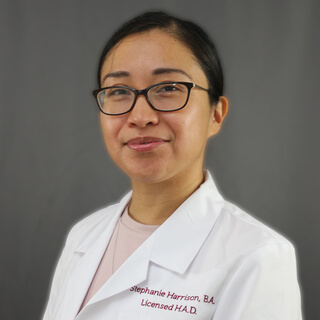 Stephanie Harrison, B.A.
Licensed Hearing Aid Dispenser
Stephanie earned her Bachelor of Arts in Communication Disorders from Calif State University Fullerton. After graduation she decided to become a Licensed Hearing Aid Dispenser. From an early age she knew she wanted to work in the field of audiology given that she has a sister who is deaf. Stephanie is fluent in both American Sign Language and Spanish. While in college she did several trips to Mexico on Hearing Missions and will gladly share her memories with you. She knows personally how challenging life is for those with hearing loss and is dedicated to helping them through hearing aids.
"Growing up I witnessed the detrimental impact communication difficulties has on families. At Whittier Hearing Center I am fulfilled knowing that I am doing something I love to make a difference in a meaningful way"